Race Port
We are also starting to carry more and more parts so please check back on what all we're carrying.
Current list of suppliers
Metco
SCT Mass Air Meters and Handhelds (X-cal's)
Diablosport Mafia's
JLT Cold Air Kits
Dragon Performance Throttle Bodies and Plenums
Siemens Injectors
Mcleod Clutches
Aeroforce Gauges
This is the Blower/Car I learned on by porting the factory supercharger on my own 2004 Terminator 3 times before I settled in on my Race Port design that I sell now. The very first "Race Port" was actually an upgrade done to a Stage 4 port. It picked up substantially under the curve compared to the original Stage 4 port that it was upgraded from. That's why I say I can upgrade any port but nobody can upgrade mine. There's too much time spent on every area that there's nothing left. I take a lot of Pride in every single one of the blowers that leave Posi Performance.
All testing below is 3rd party testing which I still believe is the best way.
Car #1
2.81" upper only with 1st Generation K&N filter, MRT H-pipe with cats, and Magnaflow catback.
Car made 501hp with Race Port and stock unported tb/plenum.
Then with ported stock tb/plenum it made 508/490.
The majority of the upper only cars so far have been over 500 Corrected hp. As long as the car has a good tune with the proper amount of timing the ports will produce.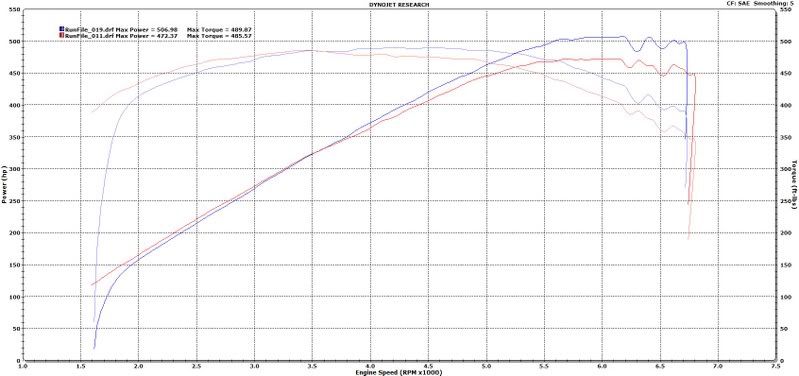 Car #2
This was a re-worked Stage IV that was mentioned as being BADASS03SVT's car that has ran 9's blower only. This is an Automatic car so that's what the numbers are lower, but what I'm pointing out is how much the car picked up under the curve. Here's the last graph of the old port compared to my re-worked blower. No pulley changes and it was ran on the same dyno as before. Also I did a "true" egr delete on this blower and it did absolutely nothing. (Kind of surprised me that no gains were found from the EGR delete)
Also I'll add this had some lower intake work done on it also but not what I sell now. (Just some very basic work to clean things up)
3500rpms – 32hp and 49 ft lbs tq.! Should help w/ 60' times.
4000rpms - 13hp and 16tq
4500rpms - 10hp and 13tq
5000rpms - 14hp and 15tq
5500rpms - 7hp and 7tq
6000rpms + is the same....
Just look under the curve at what was picked up.
Here's a good read on me learning as I went along for anyone to see. Let alone the types of polishing I've done since day one on every single port. Be it my first one or the ones that are done from here on out. www.svtperformance.com/forums/terminator-talk-229/445199-self-ported-blower-pics-numbers.html
Now some pictures of the Race Port for the 03/04 Cobras.
Pricing for 2003/2004 Cobra's
Race Port = $500
Port Stock tb/plenum to match = $125 with no welding
Dragon tb/plenum = $500 non ported
Match Ported Dragon tb/plenum = $550
Match any other single blade throttle body plenum to Race Port = $100
Race Port Lower Intake Manifold = $600
Rebuild Snout $175.00
_________________________________________________________________________
Supercharger Upgrades to Race Port specs
Apten upgrade = $375
True Forged upgade = $375
Stage 1 upgrade = $375
Stage 3 upgrade = $230
Stage 4 upgrade = $230
Stage 5 upgrade = $230
________________________________________________________________________
We are also starting to sell more and more parts so please keep an eye out for them to be added.
SCT Mass Air Meters and X-Cal's
Diablosport Mafia's
Metco Pullies
FORE Precision
Home Port upgrades
Please call because we've had some great numbers after finishing what people have started on their own.
Note: Anybody can take off $50 if the "Case Only" is sent in. Then when the Case gets sent back out it's cleaned and ready for assembly. More than enough oil is sent with it and the rear needle bearings for the rotors are greased. Entire case is shrink wrapped to stay clean in shipping.
All cars running upper only pulley combo's are recommended to have fuel pump help and Mass Air Meter help before going back on the Dyno for a Retune. Needing these mod's is just more proof that the Race Port is doing what I say it's going to do. A Mafia or SCT Mass Air Meter is fine and for the Fuel a bap (Boost-a-pump) or a Twin GT fuel pump setup is perfectly fine. Talk to your tuners and see what they recommend if you need help.
Upper and lower pulley combo's can easily need fuel pump help, Mass Air Meter help, and Injectors.
Visitors: